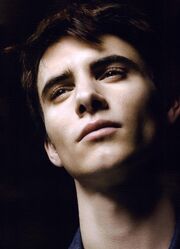 The supernatural world knows of the great struggle between the House of Pendragon and the Dragon Twins. A mystical version of Posh and Becks, these social climbers are openly antagonistic against the Royal Court, using their presence and power to press their claim as the true rulers of Albion. They are protected by the northern werewyrm bodyguard, John Lambton (a man of prodigious appetites) and their spokesman, the eloquent Myers Davis - chairman of Castle Public Relations .
It has been suggested that the Dragon Twins are linked in some way to the Serpent . 
The Dragon Twins attempted to usurp the House of Pendragon using a once-per-80-years ritual called the Council of Bran . This vote of all the current powers of London is a binding decision. In 2016, the Powers of London rejected the Dragon Twins, despite their best efforts to undermine the Pendragons, after the Spring Court of Fae re-emerged from their seclusion to rejoin London.